Description
Air Wave Leg Pressing Massager Vibration Infrared Relaxing Analgesic Massager Electric Massager
Product description
This product is suitable for body massage. The infrared rays of this product are good for your health and have a major impact on local weight loss. High-speed motors bring high-frequency vibrations that can quickly reduce local fatigue. Now, we sell humanoid massage hands (head massager), leg air wave massager and full body massage vibrator. New products will be uploaded one after another. Welcome to buy, thank you for your support!
This product features special instructions for the treatment of leg care and assisted leg diseases in the 30-80 age group.
1. Charging voltage: DC 12V / 2A.
2. Working current: 0.8-2.0A.
3, shut down sleep 15UA.
4. After 10 minutes of booting, it will automatically shut down.
5, third gear strength: weak, medium and strong.
6. This product is our specially customized leg massager, which adds double pressure channel massage.
7, second gear warm: low, high.
8, six procedures: automatic, pinch, press , relax, calf focus, foot focus.
Massage position: foot center (sole heart), ankle (foot root), foot sole (calf).
Hot compress position: the sole of the foot (the sole of the foot).
9, three-button operation: program, warm, off / strength.
A, procedures: automatic, pinch, press , relax, calf focus, foot focus.
B, warm: low, high, off.
C. Off/Strength: Press and turn on/off for a long time, short press to switch between weak, medium and strong.
10, plug in the power / boot all LEDs are on for 1 second.
1、6 modes, 3 intensity, high and low heat.
2、 Press three buttons to adjust the mode and intensity of the hand-held remote controller, which is more simple and portable.
3、Press the button on the leg and foot to relieve muscle stiffness and increase blood circulation.
4、The strap can be adjusted according to the size of the leg, which is suitable for more people.
5、The charger is plugged into the power socket and charged for about 3 hours.
6、Portable hand-held remote control, more convenient to use.
Relaxation and treatment of rheumatism
Improving blood circulation
Prevention of varicose veins
Relieve gout symptoms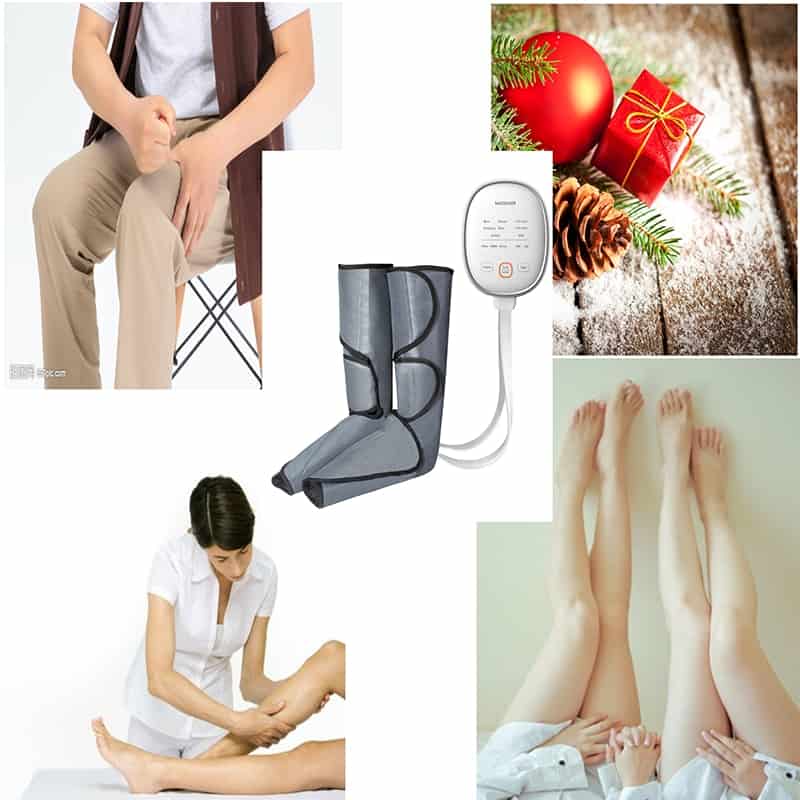 You need a leg air wave intelligent massager to relieve leg fatigue. It can relieve your fatigue at home after work. It is more suitable for your parents to do leg health care at home. Air compressed leg massager is used to massage the muscles of your feet and calves, pressing your feet and calves from down to up, to reduce fatigue and improve blood circulation. Prevent varicose veins, relieve gout symptoms and relieve rheumatism. The products are made of environmentally friendly materials which are harmless to people. Please feel free to purchase and use them.
Specifications:
Product Name: Leg Air Wave Massage Instrument
Colour: Black and blue
Optional plug: European plug / American plug / British plug
Power: 15W
Output voltage: 12V 1A
Operating Voltage: AC110-240V 50/60Hz
Packaging weight: 1.7g
Packaging size: 60x35x45cm (larger product)
Packing list:
1 A leg air wave
1 An Air Wave Massage Instrument
1 A silicone trachea
1 An adapter
1 An English Manual